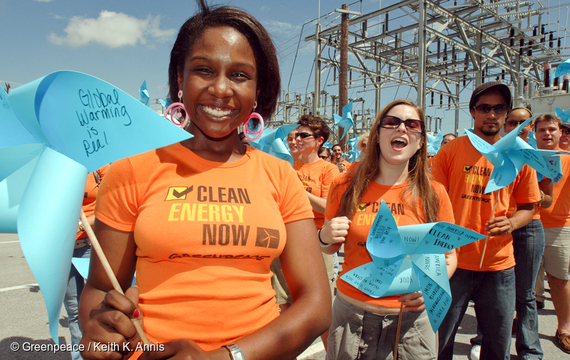 One of the most important things I've learned from many years of activism, is that the world's most challenging problems … and their solutions, are interconnected. As I reflect on what it will take to achieve gender equality, it's clear that any real solution must also achieve environmental equality.
Today, all over the world, women are disproportionately paying the price for the damage we're doing to our planet. Talk about a lose lose situation! Climate change is making the lives of millions of women much harder. In many parts of the developing world, women walk for miles each day to collect water and firewood for their families. As the planet warms and water gets scarcer, the burden on these women will only get heavier, eating into precious time that could be spent on education or productive work. If food and water run out altogether, climate migration forces the break up of communities and creates competition for resources, leaving women more vulnerable to violence.
Women are often denied education and an equal voice in civic decision making which may have led to tragic examples like Bangladesh in 1991, when the women outnumbered men by 14 to 1 in the 140,000 people who died from the flood-related effects of Cyclone Gorky, partially due to insufficient access to information and early warnings.
Women in the US aren't exempt either from environmental threats. All of us here in America, men and women alike, are exposed to toxic chemicals in our daily lives. But studies have revealed unexpectedly high levels of little-known neurotoxic chemicals in women's breast milk, placing an even higher burden on women as they try to do their best for their babies. Breastfeeding is still considered the healthiest start for our children, but worrying about passing on toxic chemicals to a nursing infant isn't something new mothers should have to go through.
What gives me an enormous amount of hope when I read these kinds of stories, is that while women may be disproportionately suffering from the pollution of our planet, we're also at the forefront of stopping it. I'm inspired every day by the many courageous women out there who aren't willing to stand by and watch their homes, health, communities, and livelihoods be destroyed.
An important step to achieving gender equality, is having role models that women can to look up to. We must share stories of their power in order for other women to understand that this power belongs to them too. Here are just a few of those who've inspired me recently.
In Flint, Michigan, it was often the watchful eyes of moms that noticed their children becoming forgetful or struggling to find words they would normally use. We now know these were signs of lead poisoning from the city water supply, though the authorities insisted that the water was safe.